Upload your logo at the size you want it to display at to Customize > Header Image: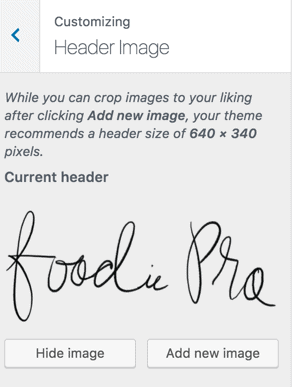 This logo will display at whatever size you upload it at. We recommend no larger than 400×140.
Theme logo CLS
The theme's menu doesn't include a height/width attribute by default, in order to support displaying any size logo. You can add the image width/height attribute by using WP Rocket's "Add missing image dimensions" setting under Admin > Settings > WP Rocket > Media

Creating a logo
The simplest way to create a modern logo is through a free online tool such as canva.com. See the how to create a logo tutorial.
For future proofing, we'd recommending creating the image at 800×280, and saving two scaled version (400×140, 200×70) for use on your site. That way, if there's ever a need for a larger size in the future, you have some wiggle room.